Monitor Arm Desktop Mount for 13" to 34-Inch LCD LED Screens up to 22 lb. ONKRON G90, Black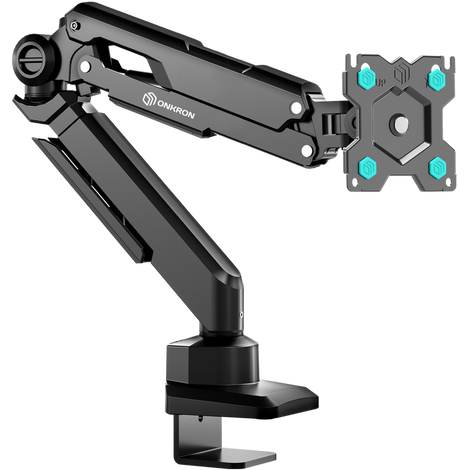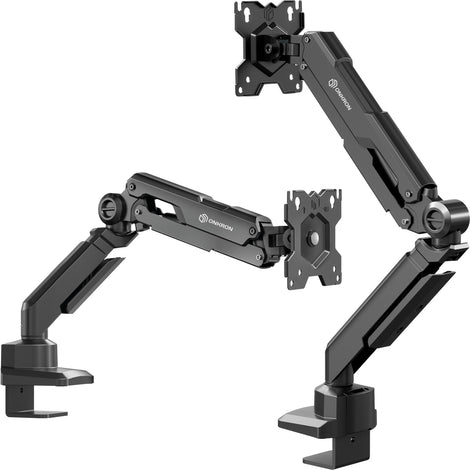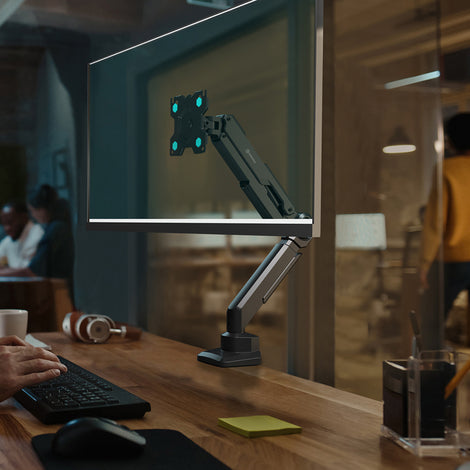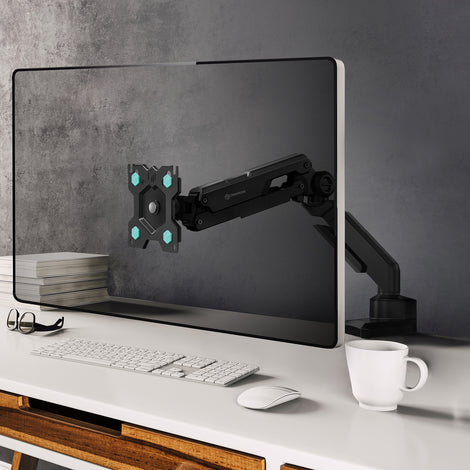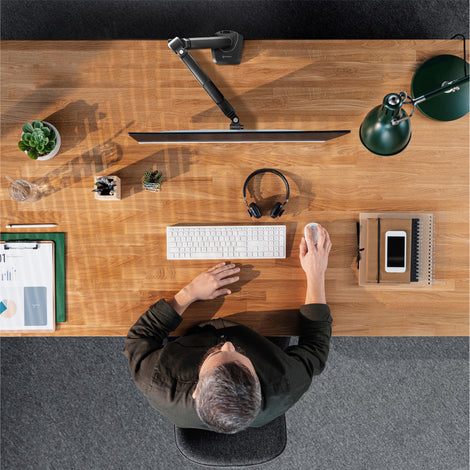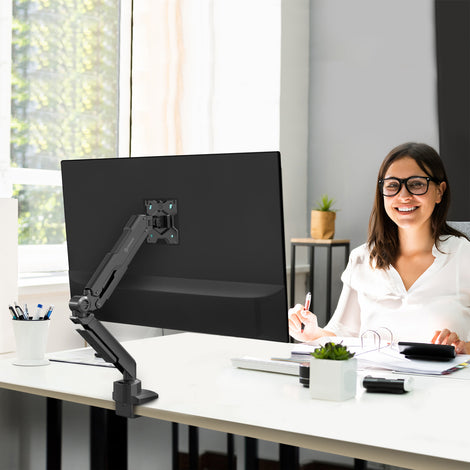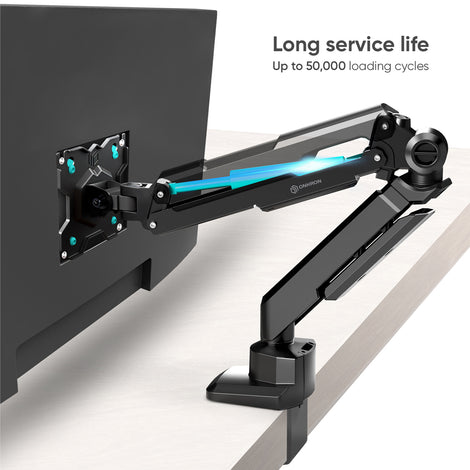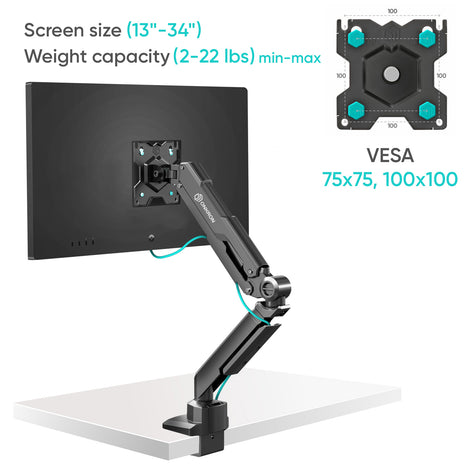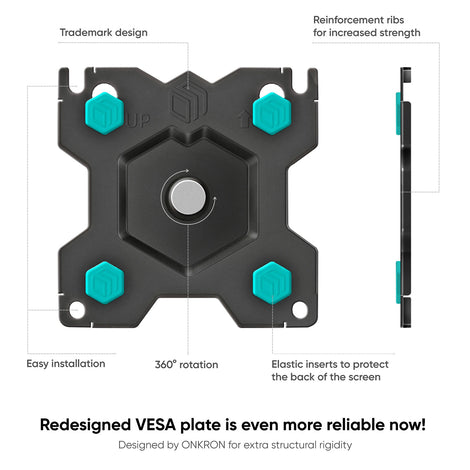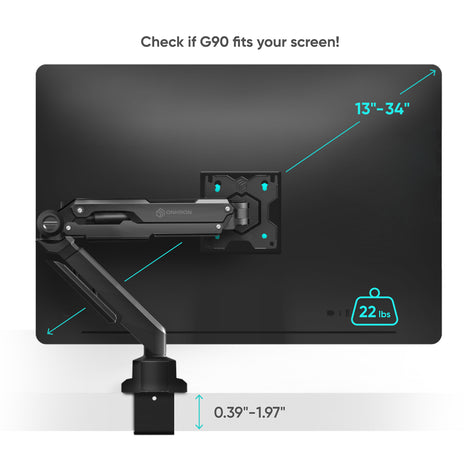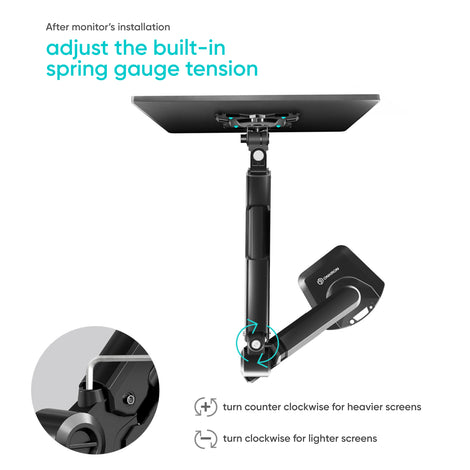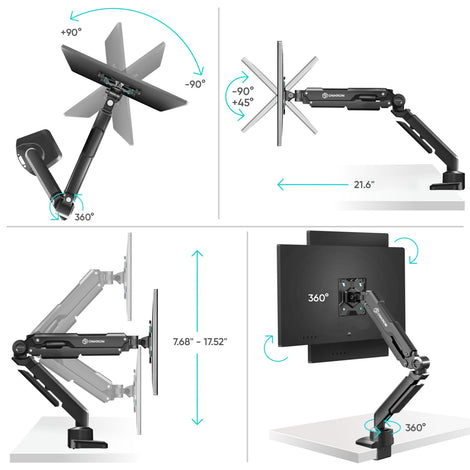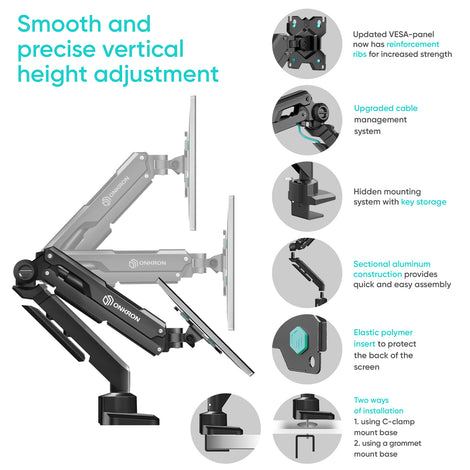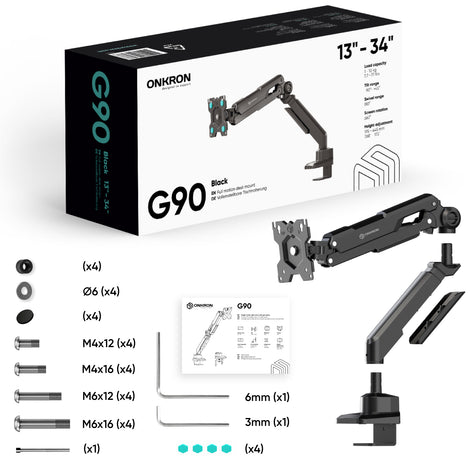 Monitor Arm Desktop Mount for 13" to 34-Inch LCD LED Screens up to 22 lb. ONKRON G90, Black
For business
Fill in the application form.
For business
We have a special offer if you are interested in buying G90-B wholesale. Just send form.
CUSTOMIZE IT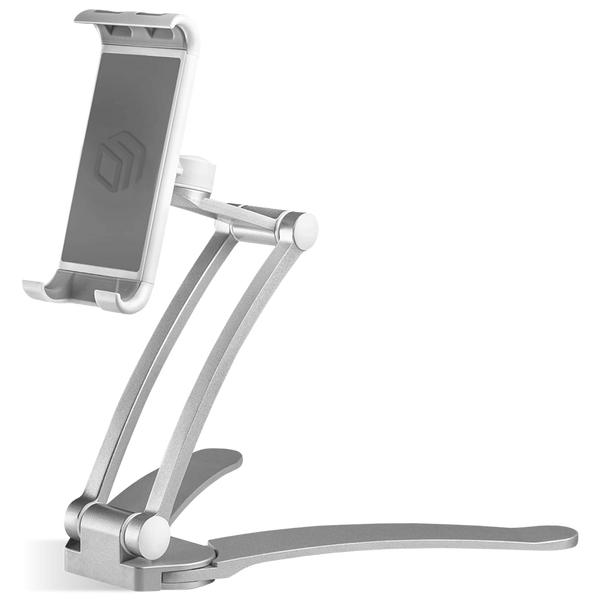 Quality unit!
Shipping was quick, item arrived in tact. Item exactly as pictured and setup was easy with the video. This is a quality unit with minimal flex and slop. Only wish Onkron swapped out the Philips head screws with Allen key screws so that I wouldn't need to go looking for another tool.
Hello Matthew! Thank you for sharing your experience and thoughts regarding the product! We will take your feedback into account for our future designes and developments.
Great value monitor arm!
I am very satisfied with the quality of this monitor arm!I would not recommend doing so, but, I tested the arm with a 49" ultrawide monitor that was within the weight range listed but not the dimensional range and it did a great job with it. I had to increase the tension greatly, but, it securely holds it up and frees up so much room on the desk.That aside - it is a very nice arm for the price. Nicer than some older arms I paid more for. I would definitely recommend it for your monitor as well! (But again - I am not recommending you use it for a size larger than recommended for yourself!)
Expensive, but the best monitor arm I have
Picked this up to mount a monitor to my workbench. Definitely the best arm I own!I have had a few monitor arms in the past. None of them are the gas strut type that adjust easily like this one. I mounted this to my workbench and it is great. It stays where I put it, but I can move it around very easily. I have a 27" Dell monitor on it and it doesn't even care.I highly recommend this for a situation where you need a monitor, but also need to get it out of the way quickly, easily, and often.
Good solid mount for large monitor
This is a nice, heavy mount that can be clamped to your desk or you can drill a hole in the desk and mount more permanently. I am using the clamp mount and so far, it is great. Much easier than drilling.I like that I can turn the monitor just about every which way. Up, down, landscape, portrait, tilted... it makes all the moves super easy. Plus, it clears up more space on my desk.
very sturdy, and highly adjustable, but at the cost of bulk and takes up a lot of space
This mount probably won't fit in tighter spots, it requires more of an open desk setup. Mount is kind of bulky but the trade off is that it's very robust and sturdy. Very versatile mounting options and the adjustability is excellent.
Today, many more people are having to diversify into conducting business and education from their homes. ONKRON has manufactured and distributed high quality mounting solutions for TV screens, computer monitors and displays worldwide for over a decade, and the company understands the importance of creating a healthy work environment that is modern, well organized and comfortable.
✔️ UNIVERSAL COMPATIBILITY : fits most 13 to 34 - inch LCD, OLED, LED monitors (Dell, Acer, HP, Samsung, ASUS, BenQ, etc.) up to 22 lb. with 75x75 mm or 100x100 mm mounting holes. Great value for money, premium monitor desk mount.
✔️ EXTRA FLEXIBLE : supports an up - down tilt from +90° to - 45°, left - right swivel 180° and 360° rotation. Rotate it into landscape or portrait view, and fix it in any position on your eye le vel. The improved design of the monitor desk mount allows it to extend up to 21.6" in length and rise to 17.5" in height.
✔️ PREMIUM QUALITY: the monitor arm with stylish coating also has a reinforced tilt mechanism - now the bracket is even more powerful! Protective inserts will protect the monitor from scratches. 100% quality control of the gas spring ensures the durability of the whole construction.
✔️ CABLE MANAGEMENT: computer monitor mount has an integrated cable management compartment to hold all th e cables inside - specially designed for thick HDMI cables. It helps to save space and organize your workspace.
✔️ EXCELLENT CUSTOMER SERVICE: our US - based customer support team is available 24/7 to answer all your pre - purchase and installation questions. We are ready to help you in any situation!
VESA configurations

Perfectly fits most flat and curved 13 to 34-inch LCD LED monitors with VESA 75x75 and 100x100 mm weighing up to 22 lb.
Cable management
Keep all your cables organized by hiding them inside the arm; use the quick-release VESA plate to make installation easier.
Viewing angle adjustment

Full motion mounting arm features tilt -90° to +45°, swivel +90° to -90°, screen rotation 360°.
Two ways of installation

Two ways of desktop installation – C-Clamp or grommet; all hardware and guides included.
Video G90 Black
ONKRON Shipping Policy.
S
hipping automatically applies only for orders with shipping to the continental U.S. 
Products purchased through the Partner Program do not include shipping costs in them, so if you are registered as a Partner, we will calculate shipping costs and send you an invoice with extra shipping charges before items are dispatched. Partners can get significant discounts when they purchase in bulk, since shipping a large quantity is a lot cheaper in cost per item terms than shipping individually. 
Please note that products that are on backorder have a special badge on the product page that reads "BACKORDER". These products ship within the period specified on the listing page. In most cases, these items are already en route to our warehouse and will ship sooner than within 3 months but if you need the product urgently or if you have a deadline, please reach out to us to find out a more exact timeline for delivery. 

All Items are delivered within 5-8 business days starting from the purchasing date. Overnight Expedited shipping is available but will be charged extra.

You can specify the delivery costs  by the following telephone number (315)9682278 or by mail info@onkron.us.
How to measure VESA
VESA patterns are measured by the center of one mounting hole to the center of another on the back of a television in millimeters. In the example above, the VESA measurements are 100 (width) x 100 (height). The example TV would be able to use a VESA 100 x 100 mount.
ONKRON PREMIUM Limited Warranty
What the Warranty Covers:
Onkron warrants its products to be free of defects in material and workmanship for the product's Warranty Period. The Warranty Period starts on the original purchase date of the product.
What the Period of Coverage Is:
This Limited Warranty extends only to the original purchaser of the product and not to any subsequent owner. If still owned by the original purchaser, all
Onkron Premium products are covered by a limited product warranty from the original purchase date of the product.
Five (5) years for all Onkron products

How to Get Warranty Service and What We Will Do:
For warranty claims made during the Warranty Period, Onkron will replace any defective product part free of charge. If a part of your ONKRON Premium product fails, call ONKRON at 315-968-2278  to make a warranty claim. We will discuss the problem with you and once we confirm the product is under warranty, we will ship replacement parts at no cost to you within 72 hours. This Limited Warranty does not cover the costs of removing and replacing defective parts from your ONKRON product. So, if your problem requires a repair technician, you must pay any labor charges.
Additional Limits on the Warranty:
The Limited Warranty is automatically void if your Onkron Premium product is modified in any way, improperly installed, taxed beyond its stated weight capacity or otherwise misused or abused. All ONKRON products are intended for indoor use only and any outdoor use voids this Limited Warranty. The Limited Warranty for wall and ceiling mounts is void if the mount is moved from its initial installation.
How State Laws Relate to the Warranty:
To the maximum extent permitted by applicable law, Onkron disclaims any other warranties, express or implied, including warranties of fitness for a particular purpose and warranties of merchantability. In any event, no express or implied warranty can last longer than the term stated above ("What The Period of Coverage Is"). Some states do not allow disclaimers of implied warranties or limitations on how long an implied warranty lasts, so these limitations may not apply to you.
Onkron will not be liable for any damages whatsoever arising out of the use or inability to use its products, even if Onkron has been advised of the possibility of such damages. To the maximum extent permitted by applicable law, ONKRON disclaims any responsibility for incidental or consequential damages (such as the cost of repairing or replacing other property which damaged when the device does not work properly). Some states do not allow the exclusion or limitation of incidental or consequential damages, so the above limitation or exclusion may not apply to you.